We offer a full range of digital imaging services, including scanning, image editing and printing.
For Artists:
We can create high quality digital images of your artwork, suitable for giclee printing on a variety of fine art papers or canvas at the original or larger (up to 43″ by any length). We can frame your prints anyway you like. We stretch canvas or mount on board and we can have your prints laminated.
We also offer printing of note and business cards.
""In the past couple years I've had requests for prints of my original acrylic paintings. I've been especially pleased with the fine art giclée prints I've had produced at Collins Artworks. I attribute the high quality of the prints to Steve Collins keen eye for color. As an artist himself, he's talented, and is able to make the giclée a beautiful likeness of my original work. Steve and Sheryll Collins work very hard to showcase the talents of emerging and established artists in their art center in Clinton and I like that they can offer artists the option of selling prints of their original works." – Lori MacDonald, artist. "
We can provide you with your digital images in a variety of sizes and resolutions, copied to a cloud service shared folder, memory stick or CD. For an additional fee, we can keep your images on our safe and secure server indefinitely so they're always ready when you need them.
For Photographers:
We can edit your photos to suit your preferences and print them on a range of photo papers, fine art papers or canvas.
For Those Special Memories:
Bring us your old family photos – scratched, torn, faded, stained, whatever. We can scan them, fix them and turn them into treasures. Using the same fade-resistant pigmented inks we use for giclees, your new prints will last for years without fading.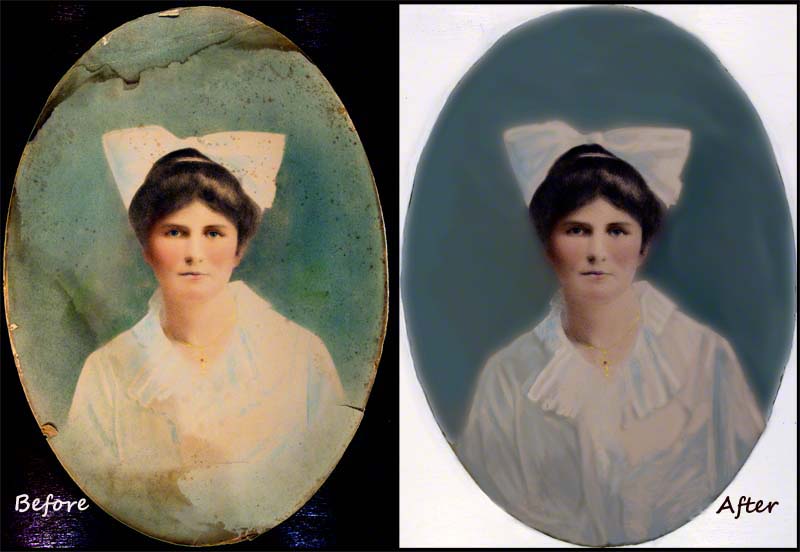 If you have old newspaper clippings you'd like to preserve, scanning and printing is an excellent way to avoid the problem of yellowing and crumbling with age. The same goes for any fragile, light-sensitive documents you would like to frame and display. Scan the fragile original and store it, then frame and display the print.
Note: Image editing and printing results will depend on a variety of factors, some beyond our control, such as image resolution and pixel dimensions. When correcting for physical damage (scratches, tears, fading, staining) during post-scan image editing, results will depend on how much of the original image remains available as a reference for correction.
""Steve, This fall the Hopkinton arts gallery asked me for a contribution to their auction–I had given them a painting last year too. So I gave them an unframed giclee that you had done–the reflection of trees in a pond, autumn. Yesterday I received a note that the picture was thought to be an original (it was that good a giclee!!) and it went for $100. So congratulations on Very Good work. Everybody is happy." – Eugene McCarthy, artist. "
Fine Art Reproduction (Giclee)
As an extension of our digital imaging and printing services, we offer artists top quality giclee printing on a range of fine art papers and canvas using our state of the art printers, providing the highest resistance to UV fading available, truly exceptional color, and spectacular black and white.
Though we generally print on Lexjet fine art papers and canvas, we can print on any surface you prefer, as long as it is receptive to inkjet printing and we can obtain an appropriate ICC profile.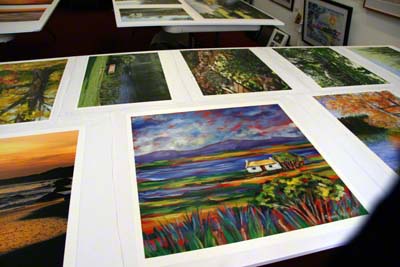 Giclee prints on canvas mounted on gatorboard and ready to cut
We can scan your originals ourselves or work with an existing digital image that you provide, in which case the image needs to be at least 300 dpi and of high quality. We can print lower resolution images but with limited quality. We also ask for access to the original, if possible, so we can match colors as accurately as possible.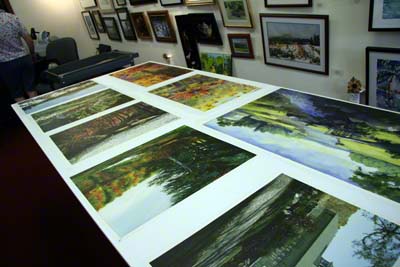 More mounted giclee prints ready to cut
We will work closely with you to insure a good result. If you like, we can show you proofs (small prints) prior to printing, which gives you the opportunity to confirm color and tone accuracy and to suggest changes as needed.
We always treat canvas prints with a protective coating, and can either stretch them on stretcher bars or mount them on gatorboard. We can also frame them or mat them for you.
We know first hand the need for high quality prints at affordable prices, and we are committed to providing this to you, our fellow artists.
Related Information:
As an alternative to the price lists we used to post, you can use our new, handy price calculator. For now, it just calculates the price for a print at different sizes, margins and media choices.
Upload Your Image Files And Print:
Upload your images and order prints here. If you need scanning, image editing or prints at nonstandard sizes, give us a call or stop in at the gallery to discuss your needs.
Collins Artworks • (978) 368-3300 • collinsartworks@comcast.net
Copyright © Collins Artworks Art Center 2006-2023; All rights reserved.