Share This:
20% Off All Gift Purchases for the Christmas Season!
Everyday discounts up to 50% off our art supplies! Labor and services are excluded. Offer good through December 24, 2015.
Buy thoughtful gifts that last a lifetime:
A framed printed family photo on canvas
A painting made by a real artist.
Art supplies for the artist in your family.
A gift certificate for art classes for your child or spouse.
An old family photo restored and framed.
A beautiful framed collage created from your favorite photos
Or anything that can be printed, painted, drawn and framed
Don't buy a gift that doesn't last or something that will fade in a few days. Buy a gift of love of family, friends and creativity!
Special Auction to Benefit Liberty Arnold-Simon!
"Roses in Bloom", 35″ W x 24″ H, gallery wrapped canvas print, ready to hang.
This highest quality canvas print of Sherry's beautiful painting, "Roses in Bloom," was created solely for auction to benefit a precious young lady named Liberty Arnold-Simon, who is in the fight of her life against Diffuse Pontine Glioma, an inoperable brainstem tumor with a grim prognosis.
What's New
Sign up now for our after school or Saturday kids art classes: award winning, fun, creative, educational, and affordable.
Other programs: private, homeschool, birthday parties, kid paint parties, teens, portfolio development for college – Go to Kids Classes page for info.
Adult painting parties: Have fun with your friends creating your own acrylic or watercolor painting. Check for upcoming  workshops and our Spring Session  Go to Adult Classes for details.
New matted prints for $20 and $35. Makes great gifts.
We now sell quality prints of antique maps of Clinton & Ireland. Comes with 20% off framing.
We do fine art printing on canvas and paper large or small, banners or wall size.
Stay tuned for our coming grand reopening!
A Note on Who We Are and What We Do
We (Sherry and Steve Collins) founded Collins Artworks in Clinton, Massachusetts, with a vision of  promoting the work of local artists by offering a suite of art-related products and services to the community. Our gallery carries original works of art, along with prints, cards, and other art products created by over thirty local artists.
We are also a full service custom frame shop, specializing in archival quality framing, canvas stretching, and framing supplies at great prices.
""This is a fantastic family business. Nice to have a great place so close to home that does impeccable work for a reasonable price. I have had four pieces of artwork framed here now, and every job is done perfectly. It seems like a great place for kids parties too!" – Cathy Grayzel"
We can create high quality reproductions of your fine art, photos, and other items. We specialize in fine art reproductions (giclée), and can create restored prints of damaged and faded artwork and photos.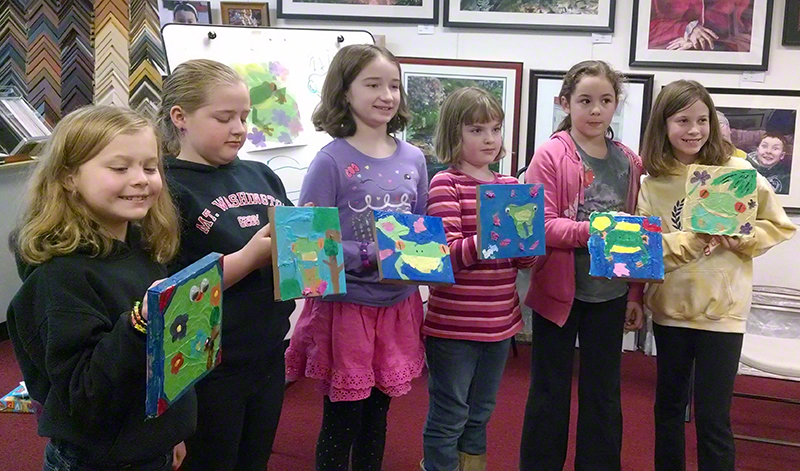 Our kids art classes are a great after school and Saturday activity, building self-esteem through the joy of creativity. And our adult classes and workshops cover a range of media for students at all skill levels.
We carry a growing selection of art supplies at steep discounts and can special order anything we don't have in stock.
We provide art consulting services for businesses and institutions, graphic design, signs and banners, and professional photography.
Our Art on Rotation Gallery represents over eighty local artists, showing their work at Thayer Memorial Library in Lancaster, MA, at Thai Time Restaurant in Clinton, MA and at the Collins Artworks gallery space in Clinton, MA.
In everything we do, we are committed to giving you uncompromising quality, a great price, and true customer service, the traditional hallmarks of a local, small business.
""I have a couple of my recent paintings on view at Collins Artworks Art Center in Clinton, MA. I've worked with them (Sheryll and Steve) since 2007 and they've sold a number of my works over the years. I can highly recommend them for framing, giclees, original art, etc. So if you're in the vicinity, check them out! — with Collins Artworks." – Scott Niemi. "
Collins Artworks • 167 Church Street, Clinton, MA, 01510 • (978) 368-3300 • collinsartworks@comcast.net
Copyright © Collins Artworks Art Center 2006-2015; All rights reserved.