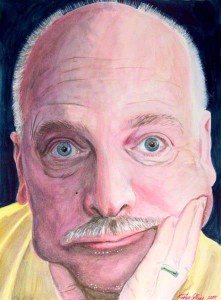 Full time artist and co-owner with his wife, Sherry, of Collins Artworks, Steve works in a range of genres, from portraiture to landscape to still life to abstract, in watercolor, acrylic and oil.
He loves to experiment, pushing himself to try new approaches and techniques, flirting with abstraction while remaining a realist. While staying committed to an accurate rendering of his subject, he often seeks something surprising, interesting, or humorous to color his expression. His work has appeared in a number of juried shows, and he has won numerous awards.
Steve lives in Lancaster, MA, with his wife Sherry (also an artist). Steve and Sherry own and operate Collins Artworks, an art gallery they opened in 2009 in Clinton, that offers custom framing, digital imaging, fine art printing, and art classes to fellow artists and the general public.
A selection of his work will be added soon. Many of his pieces are available for sale as originals and prints.
Collins Artworks • (978) 368-3300 • collinsartworks@comcast.net
Copyright © Collins Artworks Art Center 2006-2023; All rights reserved.