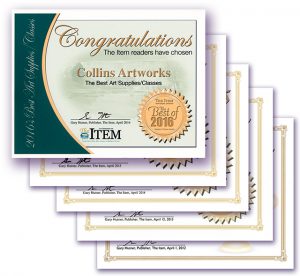 For the fifth year in a row, Collins Artworks has been voted #1 in the 2016 Item reader poll for Best Of Art Supplies/Classes. The Item is a popular local newspaper.
Thank you to all who voted for us. Your recognition is greatly appreciated!
Collins Artworks • 167 Church Street, Clinton, MA, 01510 • (978) 368-3300 • collinsartworks@comcast.net
Copyright © Collins Artworks Art Center 2006-2017; All rights reserved.